Zinc – A Classic Look For Your New Countertops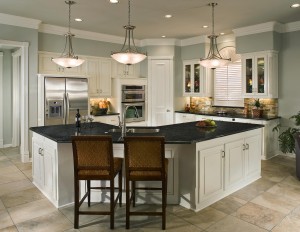 Zinc is not the choice for you if you want your countertops to look as new as the day they were installed 20 years from now.  But if you're planning a kitchen remodel and you want your new countertops to have warmth, character, and a classic look, you should definitely take a look at zinc.  Unlike stainless steel, zinc develops a patina (bluish film) due to oxidation and reactions to substances such as water, lemon juice, and even the oil on your fingertips.  For this reason zinc is considered a "living metal".
If you choose zinc for your countertops you'll be rewarded with a kitchen which will have a subtle, ever-changing warmth and beauty over the years.  Here are some great characteristics of zinc:
It's naturally anti-microbial and non-porous so it's very easy to keep clean and sanitary
It's very malleable so it can be hammered and shaped in ways not possible with other materials
Because it is non-porous, you can spill anything on it and it won't stain
The primary drawback to zinc is its price which can run between $120 and $200 per square foot (depending on the thickness).  Zinc countertops or island surfaces can however provide a big return on investment if you sell your home.  And if you should never move to a new home you'll most likely never need to replace your countertops which will increase in character and beauty throughout the years.
http://www.houselogic.com/home-advice/kitchens/zinc-countertops-pros-cons/  To see more information.  For a quote for a custom kitchen call USI Remodeling.  972-206-0750