USI Remodeling Wins Coveted Star Award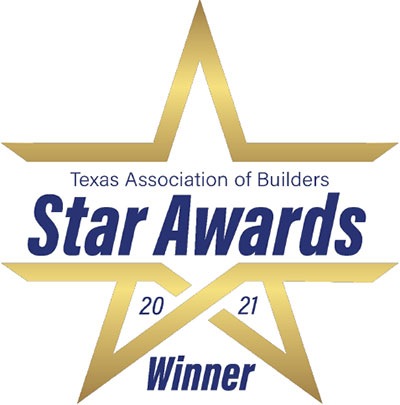 USI is pleased to announce that we received the 2021 Star Award for Best Whole House Renovation ($500K-$650K) from Texas Association of Builders.
AB Star Awards Winners Announced
Eight Grand Awards & 162 elite trophies were handed out.
AUSTIN, Texas – The Texas Association of Builders (TAB) announced the 2021 Star Awards winners in conjunction with the 20th Sunbelt Builders Show™ at Hilton Anatole Dallas. There were a record setting 720 entries that resulted in eight Grand Awards and 162 elite trophies being handed out by co[1]emcees Jenny Anchondo, TV news journalist/Second Shot Podcast host and Media Personality Amy Vanderoef.
The Star Awards have been given annually to recognize excellence in all areas of the residential construction industry. These awards are highly coveted within the industry. Our great State should be proud of its builders, remodelers, architects, designers, developers, and sales, marketing, and construction professionals. Projects and nominations were submitted by 120 companies from 60 cities across Texas.
In 1992, TAB launched the Star Awards – the only statewide tribute to excellence in the homebuilding industry.
About the Texas Association of Builders: Founded in 1946, the Texas Association of Builders is an affiliate of the National Association of Home Builders and has 26 local home builders associations across Texas. With a membership of nearly 11,000 representing over 723,000 jobs and more than $67.5 billion annually in the Texas economy, TAB plays a crucial role in providing housing for Texans. For more information about the Texas Association of Builders, visit www.TexasBuilders.org.