The Right Light Fixture For The Right Room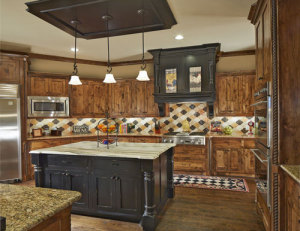 Lighting fixtures can add a lot to the look and feel of a room.  It's even possible for a lighting fixture to be the predominant feature of a room as in the case of a chandelier or an ornamental ceiling fan.  When remodeling a room, one should not underestimate the importance of ensuring that the lighting fixtures blend in with the overall character of the room.
Here are some things to consider when choosing lighting fixtures for various rooms in your home:
Living room: Since living rooms are usually the largest room in the house, the lighting fixtures need to be placed in the right locations and be strong enough to provide adequate light to the entire room.  The amount of ambient light available and whether or not you intend to place lamps in the room also needs to be considered.
Bathroom: It is important that bathroom lighting be adjustable to simulate different types of lighting for the application of makeup and to be adjusted for sleepy eyes. It's also nice to be able to turn down the bathroom lights when you want to take a relaxing soak in the tub.
Bedroom: Due to privacy needs, you can't always depend on ambient light to supplement artificial light in the bedroom.  Unless you are completely unromantic, you'll want to be able to   adjust the lighting in your bedroom to create a desired ambience.  It's even a good idea to have adjustable lighting in your kid's bedrooms so they can turn down the lights when they're trying to wind down at night.
Kitchen: The most important consideration for the kitchen is making sure your lighting fixtures are well-placed and have enough wattage to keep the room well-lit.  Preparing meals and looking through cabinets and drawers in a poorly lit kitchen can be both depressing and frustrating.  Kitchens should be cheery regardless of the time of day.
You need not fear that there aren't lighting fixtures out there that suit your tastes and needs.  There are many thousands of different models available.   A good place to start window shopping is Houzz.com which has an exhausting catalog of lighting fixtures separated into 13 categories.  And of course you are welcome to come into our showroom to get some ideas and to discuss your lighting and remodeling needs with one of our remodeling experts.