Big Bright White Kitchens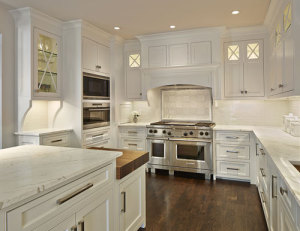 Choosing a color palette for any remodel can seem like a daunting task. Go too wild and it may become dated quickly or not match with the rest of your décor. Go too plain and you'll be missing that wow factor. An extremely versatile option is actually, … just… plain… white!
A white color scheme has a lot of benefits beyond just looking clean and modern. Going white can really make a small room feel bigger and brighter which is important if you aren't able to expand the room outward in a smaller space. There will be no more dark corners or cave-like feel with a white on white room. The brightness can even improve your mood and raise your energy levels, which is a great feeling when it's your night to do the dishes.
If your decorating tastes change like the wind, then a white kitchen is your best friend. It's a beautiful blank canvas to showcase a display of plates, glassware, or other themed items. Seasonal furnishings and accessories are also a great way to change up the look of your white kitchen. Any beautiful piece you choose will be even more impactful against a white background. You can easily change out any type of décor and completely replace it with another, without having to repaint or redo the kitchen.
For anyone who thinks a white kitchen is simply too boring, don't worry. There are so many options of beautiful materials and small details that can quickly turn simple, into luxurious. Marble, granite, and quartz countertops add a gem-like sparkle. Custom lighting and tone on tone accents can also add a level of sophistication to any kitchen. When you're ready to explore your options for kitchen renovation, please give us a call at 972-206-0750 for a free consultation.