The Showroom, a Land of Remodeling Ideas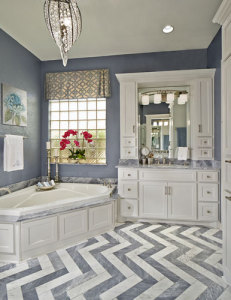 When the time comes for a remodel, some homeowners know exactly what they want, from the precise shade of their wall to the handles on the drawers. Many other homeowners have a general idea of what they want, but the details are a little fuzzy. Don't worry if you don't have a crystal clear picture of what you want for your home remodel yet.
This is what your professional design experts are here for and why we take our customers through our extensive showroom during the planning stage of the project. The showroom tour is usually one of the most exciting parts of the remodeling process. It's like taking a kid to a candy store. In the showroom, you can start picking and choosing all of the finishes you want for your new room, such as tiling, cabinetry, and yes, even drawer handles. Our showroom has plenty of options and sample rooms so you can begin to imagine the final outcome of your project.
You don't need to know all of your remodel answers. Just know that as you start on your remodeling journey, that exciting showroom visit will be in your future. Contact USI Design & Remodeling today to get started.