The Benefits Of Re-Facing Cabinets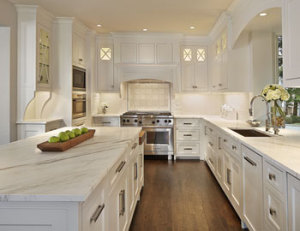 One of the most popular requests of a kitchen or bathroom remodel is to replace the cabinets. It can be exciting shopping for all new cabinets, but many homeowners may not realize that simply re-facing their existing cabinets can give them a whole new look with a lot of added benefits:
Financial Savings – If you are looking for ways to trim down the cost of your remodel, re-facing cabinets is often a lot cheaper than replacing them altogether.
Less Waste – Replacing cabinets means that you are going to have to get rid of your old ones. Save some landfill space by working with the cabinets you have.
Time Savings – Oftentimes, re-facing cabinets can save a lot of time and hassle. It is less messy than tearing out old cabinets and installing new ones.
Re-facing cabinets is not the best choice for every project. If you existing cabinets are damaged, weak, or warped, then you'll really want to invest in some new ones. Not every cabinet can handle a re-facing. Certain woods and materials may resist new paint or stains.
It's best to discuss the possibility of re-facing your kitchen or bathroom cabinets with a design and remodel company. Your project manager can work with you to determine if re-facing is a good option based on your budget, the state of your existing cabinets, and your vision for the completed project. Give us a call today if you live in the Dallas/Ft. Worth area and have questions about re-facing cabinets.