Stay In Your Home Longer With An Aging In Place Remodel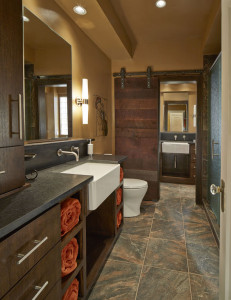 Just because you (or your parents) are getting on in the years, doesn't mean it's time for a nursing home! Many seniors today want to stay in their homes as long as possible. They enjoy being a part of their community, being close to friends and family, and exerting their independence.
Of course, as a person ages, certain chores and activities become more challenging. Showering safely, walking up porch steps, and moving through a home with a walker or wheelchair may be difficult for seniors.
More and more remodeling companies are offering a special type of remodel package, called "Aging in Place." An "Aging in Place" remodel focuses on making a home easier and safer to navigate for seniors so that they can stay in their homes longer. The specific changes made during this type of remodel vary, but a typical Aging in Place remodel may include:
Adding grab bars near the bed, the toilet and in the shower
Installing a walk-in tub with a bench seat
Widening door frames for easier wheelchair and walker access
Adding more lighting in hallways
Adding a ramp to the porch or to sunken rooms
Installing a comfort height toilet
If you would like to learn more about an Aging in Place remodel for your home or the home of parents or a loved one, please contact USI Design & Remodeling.