Splurge On A Tub – You're Worth It!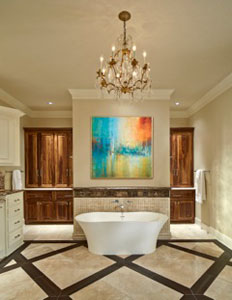 You may not have the inclination to take a hot bath every day, but when you do, you want it to be a luxurious experience. You want to be able to stretch your legs and feel the warmth gently relax your tired muscles. If your tub is small, cramped, or ugly your relaxing indulgence won't be relaxing at all.
If it's time for a full bath remodel in your Dallas or Fort Worth home, consider paying extra close attention to the tub. Invest in a large and comfortable tub that will really allow you to treat yourself on a cold winter night, when you want to sip a glass of wine and catch up on your favorite book, or even enjoy a romantic experience with your partner.
At USI Remodeling, our design experts can help you choose the perfect tub for your needs, including a big Jacuzzi tub that will make you feel like royalty. We can incorporate your tub into the new design of your bathroom by layering in the same stone or tile as the floor (see the Grapevine Bathroom Remodel), make it stand out with wood or tile accents (see the Dallas Bathroom Remodel), or even turn the tub into its own visual point as we did on the Flower Mount Bathroom Remodel.
Please visit our remodel gallery to see all the amazing bathroom remodels we've done in the Dallas/Ft. Worth area. We'd love to compete for your business.