Rub A Dub-Dub, $5,000 For A Tub?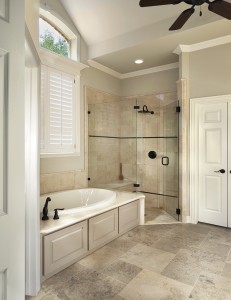 If you are considering a bathroom remodel for your Dallas or Ft. Worth home, you probably want to get an idea of how much it will cost before you start soliciting bids from Dallas or Ft. Worth remodeling companies. Unfortunately, no two bathroom remodels are alike. Where one couple might simply want new countertops, tiling, and sink fixtures, another could want to build a walk-in shower, add a whirl-pool tub, and add a his and hers double sink vanity. The scope of the project drastically affects the price of the remodel. So too do the materials that you choose.
For instance, you could buy a simple, no-nonsense tub for $150…or you could choose an antique claw-foot tub for $5,000. Every choice you make from the tiles on the floor, to the sink faucets will impact the price of your bathroom remodel. At USI Remodeling, our design experts are here to help you find beautiful finishes that fit your style and your budget. We've spent 20 years building up a network of excellent suppliers in the Dallas and Ft. Worth area, and we can get you some great deals.
In order to get an estimate on your bathroom remodel, give us a call and tell us all about your project. We will give you an accurate and honest quote. We appreciate the opportunity to compete for your business.