Revamping the Laundry Room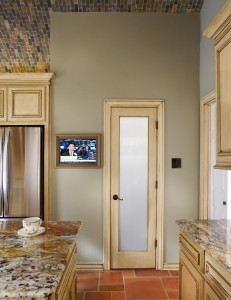 The laundry room is the space in your home that is probably used the most, but sometimes neglected.  The laundry room is a place in your home to keep all of your washing and drying needs together in one place to allow the rest of the home to stay uncluttered. If you laundry room needs a revamp, check out these great ideas…
Adding a utility sink to your laundry room gives you the ability to multitask.  The sink allows you to be able to wash delicate clothing that can't be put into the washer or it can be a place to clean items that may not fit into the washer or dryer.
Having a hanging rack installed will provide you a space to air-dry delicates.  Depending on your needs and space allowed, there are many different options for hanging racks in your laundry room.
Cabinets in the laundry room can serve as a storage space for all of your laundering accessories.  Cabinets can also act as second linen closet if you need the space.
The laundry room is bound to get messy as some point, but revamping it with a few more accessories or giving it a make-over can leave you with the laundry room of your dreams.