Kitchen Remodel – Do It Yourself or Hire a Remodeling Company?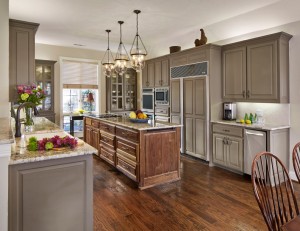 The internet is filled with helpful videos on installing cabinets, putting down flooring, and even doing basic plumbing work. However, access to information doesn't necessarily equate to a job well done. When it comes to home remodeling, there's still a lot to be said for experience, patience, and general know-how. Whether or not you should take on a DIY kitchen remodel depends in a variety of factors:
Do you have the time? Even a simple kitchen remodel could suck up several days of your time. (More if you have to address mistakes.)
Do you have the patience? A great kitchen remodel depends on having the patience to plan ahead, prep the room, and perform a lot of monotonous labor.
Do you have the comfort? If you've never picked up a power tool, you probably don't want to learn how to operate one while working on your kitchen!
Can you live with mistakes? If this is your first major project, get ready to make mistakes. You will have to be ready to live with these small flaws or to invest more time, effort, and money into fixing them.
If you aren't ready to jump into the DIY world of a kitchen remodel, we suggest bringing in design and remodel firm that can make sure your remodel is done safely and produces a beautiful result for you. If you live in the Dallas / Ft. Worth area, USI Design and Remodeling would like to compete for your business. Contact us for a free quote.