How to Avoid Finish Paralysis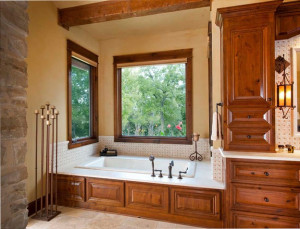 It's time to pick out new tile for your bathroom floor. Should you go with ceramic tiles? What about porcelain? Isn't natural stone so amazing, though? And what's this you've heard about glass tiles? Okay, definitely natural stone. Now, what kind? You've got granite, limestone, marble, and onyx. Don't forget about sandstone, pebble, and travertine too! What size should the tiles be? What color?
Freaking out yet? Yep, you've got a serious case of "Finish Paralysis." Picking out the finishes during a home remodel can be an exciting experience. It can also be incredibly overwhelming. There are just so many options within options within options. Whatever you choose may be a part of your new kitchen or bathroom for as long as you live in the house!
If you choose to work with USI Design & Remodeling, this is exactly where our design experts come in and help you whittle down your finish choices until you find the perfect one. Our experienced interior designers know just how to banish finish paralysis and make the selection process fun!
Contact us today to tell us more about your bathroom project.  Dallas: 972-206-0750 Ft. Worth: 817-319-1892