Renovations That Give The Best Return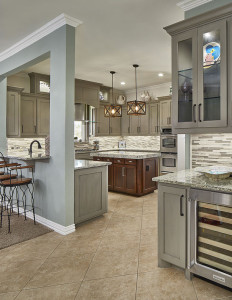 If you're selling your home, target those renovations returning the biggest bang for the buck. Which ones? First off, cost conscious buyers aren't impressed with a granite countertop if the roof is leaking. House repairs and home maintenance should be high on your list. Replacement siding, for example, adds curb appeal and helps you recoup 92.8 percent of its cost, according to Remodeling Magazine. Roof and window replacements can also return 80 percent or more at resale.
Next, as you probably heard from real estate agents, kitchen and bath remodels are sure-fire investments. The return? Often more than 100 percent. If funds are low, choose a kitchen over a bath remodel. Often, potential buyers who view dated kitchens overestimate the updating costs.
Adding a pool in a warm, beach area like LA adds value. But so does adding a deck and converting an attic into a bedroom.  The top update giving a huge return? Hard to believe, but it's replacing or updating your front door.
According to the US News and World Report article, "Which Home Remodeling Projects Are Worth Your Money?" here are the renovations that bring the greatest percentage return on investment:
Entry door replacement: 96.6 percent
Deck addition (wood): 87.4 percent
Attic bedroom: 84.3 percent
Garage door replacement: 83.7 percent
Minor kitchen remodel: 82.7 percent