Great Ideas for Kitchen Storage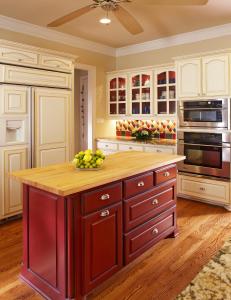 With the Holidays coming and more parties and people at your house you may need better ways to store things in your kitchen, and there are ways to do this with a kitchen remodel.
Pantry systems, pullout shelving, appliance garages, wall-mounted pegboards and more have long been popular kitchen storage ideas on Houzz, because they can take a gorgeous kitchen to the next level. But you might ask, "Yeah, but what's that going to cost me?"With that in mind, here are kitchen solutions to consider for your remodel or new construction — and how much they might set you back.
Here is one that is just amazing:  Add a wine storage unit high above your kitchen and put a ladder to the wine.   It is quite the conversation piece and you will have the ability to have much more wine on hand for your friends and family.   USI Remodeling can help you with many unique design ideas to expand your storage capacity.  For more ideas also go to
Houzz.com  
where we are also shown for the projects we have completed in the Dallas and surrounding areas.