Exciting Kitchen Cabinets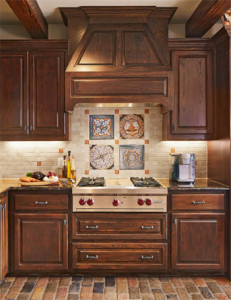 Boring white kitchen cabinets getting you down? Don't let them. There are many ideas out there if you would like to jazz up your kitchen cabinets. Here are some of our favorites.
Colored doors– Sometimes all a kitchen needs is a pop of color to change the whole vibe. If you love the crispness of a white kitchen but the monotony isn't working, try replacing a few white cabinets with color to change the entire look. If you are feeling timid stick to pales and neutrals, or go out all out with a vivid red or blue.
Chalkboard doors- Perfect for the artistic or forgetful, chalkboard doors are gaining in popularity. This rustic look is not only fun (especially if you have kids) but practical as they are the list makers dream! No more looking around for a pad of paper when you can write your grocery list on the cabinets.