Kitchen Countertop Materials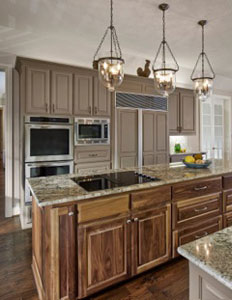 With so many new and exciting options available for your kitchen countertops, it's hard to decide which is right for you. Here are some of the best options to consider when remodeling your kitchen.
Granite
Granite countertops are extremely popular and it's not hard to see why. They come in so many shade and pattern variations, and you can customize the finish to suit your style as well. They are extremely durable, but do require periodic sealing to keep out stains.
Quartz
A beautiful manufactured stone material similar to granite is Quartz. It's actually made up of tiny pieces of quartz, a hard resin, and tinted with color. It comes in even more color combinations since it is engineered, and offers the durability of granite without the maintenance.
Marble
No one can deny the natural beauty of marble. It's a classic elegant choice for any kitchen, and stays cool which is a plus for the baker in your house. While extremely durable, it is very prone to staining. It's often used as an accent on an island or smaller workspace rather than the entire kitchen.
Soapstone
A softer and more rustic look can be achieved by choosing soapstone for your counters. It will need periodic maintenance and isn't quite as hard as granite. The color choice is limited, however, as it comes in a natural medium gray color which darkens with age.
Concrete
Customizing a concrete countertop for your kitchen is an excellent choice for an edgy industrial feel. Very versatile, the concrete can be colored, as well as having tile inlays or designs added before it dries. Concrete does require sealing and is extremely heavy, which may require special adjustments during installation.
Wood
A wood countertop lends a warm traditional look to any kitchen renovation. Commonly referred to as Butcher Block, the wood countertop is especially convenient to cooks and chefs alike. It can show some wear and tear as it's used, but that's also part of its charm. Butcher Block does require frequent disinfecting and oiling to keep from cracking.
Tile
From simple subway tile to masterful mosaics, tile is an easy way to personalize a kitchen to suit your tastes. There are so many options, shapes, colors, and finishes that your design possibilities are endless. Tile may crack or chip but is much easier to fix than other countertop issues, because single tiles can be replaced without touching the rest of the surface. Keeping your tile and grout clean is important to avoid staining.
Stainless Steel
Not just for restaurants, many kitchens now show off a professional style with a stainless steel counter workspace. It is extremely durable and resists bacteria and staining. It will need to be polished and cleaned to avoid fingerprints, and can be dented if hit by a heavy object.
Not sure which countertop is right for your remodel? USI designers are standing by ready to help create your dream kitchen.