Do You Dare to Paint Your Front Door a Daring Color?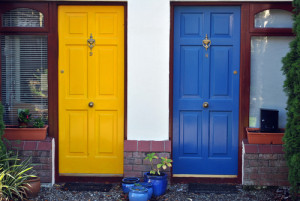 The front door is a gateway into the home and one of the first things a visitors sees when they approach your house. Why then, do some many homeowners choose a standard, bland front door in neutral tones? If you are ready to remodel and re-design your home, then consider adding a touch of personality and color to your home's threshold!
Jennifer Ott, a professional designer and Houzz contributor, wrote an excellent article on Houzz, showcasing nine daring door color schemes. In the article, Ott advises readers to create a color palette for the outside of the home so that the outdoor colors of the home will complement the color of the door. Ott also suggests that that homeowners use neutral support colors so as to really enhance the stark contrast of the door.
Read Ott's article and take a look at the nine bold case studies she includes. If you live in the Dallas or Ft Worth area and want to daringly re-model and re-design your home, contact USI Design & Remodeling.