When Is It Time To Consider Aging-in-Place Renovations?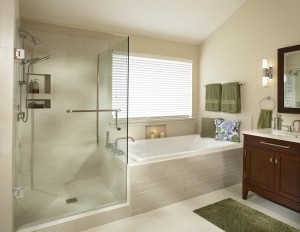 If you've already decided that you want to grow old in your current home, then you are probably aware of a special type of remodel called "Aging-in-Place." During this remodel, the home is updated in a variety of ways to help prevent accidents, accommodate wheelchairs, and make living more comfortable for older adults.
But how do you know when you need to pull the trigger and start planning your aging-in-place updates?
When challenges become apparent. Ideally, you want to have aging-in-place remodeling updates complete before they are needed. Start thinking about your day and consider whether any particular act was difficult for you or anyone else in the house. Do you get nervous about stepping out of the tub or have difficulty standing on the slick shower floor? Does your spouse have trouble walking up the front steps? Don't wait for an accident to happen! Start making changes now.
After an accident. No one wants an accident to happen, but if you or your spouse trip, stumble, or injure yourselves in the house (especially if it happens more than once), it's a sure sign that you need to strongly consider making aging-in-place modifications. This is also true if one of you begins using a walker or wheelchair or starts taking medication that interferes with balance, coordination, or vision.
When someone is declining quickly. If you or your spouse are quickly losing vision, balance, coordination, or general mobility, then don't wait for an accident to occur. Call a local remodeling company to perform an aging-in-place remodel to help protect your loved one and make their time at home more comfortable.
If you live in Dallas and are curious about aging-in-place remodeling, contact USI Design & Remodeling.