Bright and Beautiful Remodeled Bathrooms
Bat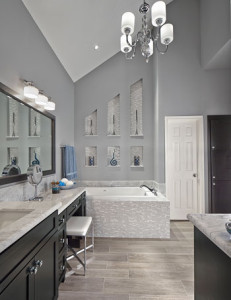 hrooms and kitchens sell homes.  Numerous studies have shown that the bathroom and the kitchen have the largest impact on buyer's decision than any other factor.  Bringing new life to an old, boring bathroom by brightening it up with better lighting or bright colors can help sell your home quicker.
The easiest way to brighten up a bathroom is to exploit its natural lighting.  Centering the design around a large window and allowing the light to frame the design of the bathroom at large can also make it look larger.  If exterior walls are unavailable, skylights also work well to bring in natural light. Not every bathroom remodel design can incorporate natural lighting and must be dependent on artificial light.
In cases like these, recessed lighting, mirrors and light wall colors can help it look larger and help make the most of the space.  Make your bathroom the place to be in your home and design your remodel today.