Bathroom Designer Gives Dallas Master Bath An Uptown Look
"You really have to enjoy what you have", does that mean a dated master bath? I think not.
In this Dallas TX bathroom remodel project we had space, all be-it mostly vertical, our job was to expand this space into something sophisticated and cool.
The design gives a nod to the vaulted ceding structure by creative use of trapezoid shaped insets which expand in size as the ceiling allows. The juxtaposition of the linear mosaic tile lining the insets back wall provides an element that is "really striking".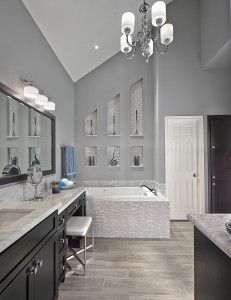 Throughout the space there is plenty of spatial variety, from the tub inset into its deck, separate his and hers vanities and a classic white marble shower, the mood is sophisticated in meaning.
Flexible bathroom designs such as this Dallas bathroom incorporate elements such as a focal chandelier, high contrast cabinetry and pair these with tried and true Classic natural marble, the massing of this simple palette create the different tone.
Find a bathroom designer or bathroom remodeling company in Dallas TX.
About Us:
USI Design & Remodeling is a National,"Best of the Best" Design Award Winner, and "Remodeler of the Year" Award Winner. We provide service to the Dallas and surrounding metro areas.