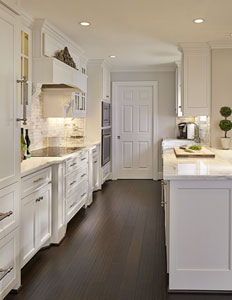 A Kitchen Remodel Which Does Away With Cabinets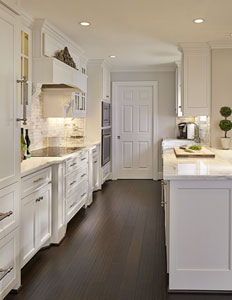 While reading an article on houzz.com entitled "8 Little Remodeling Touches That Make a Big Difference",  I saw a photo of one of the "little touches" which was quite stunning – a black and white kitchen with no kitchen cabinets. In lieu of traditional kitchen storage space, the author of the article opted for two rows of oversized drawers – one row along a wall and the other built into an island which runs the length of the kitchen and faces the other row of drawers.
The author's reasoning for going cabinet-less is "looking down into a well-lit space is much better than looking deep into a dark cabinet." Regardless of her motive, the result was a sleek, ultra-modern looking kitchen. To add to the spacious feel, two sets of over-sized windows were incorporated into the wall running perpendicular to the kitchen.
Having all of your kitchen storage space located below the counter-tops is also a great option for those who have difficulty accessing high cabinets. You can see the photo of the kitchen and read about the other "remodeling touches" at http://www.houzz.com/ideabooks/9976674/list/8-little-remodeling-touches-that-make-a-big-difference. For more kitchen remodel ideas, contact one of USI Design & Remodeling experts at 972-206-0750 in Dallas or 817-319-1892 or email us at info@usiremodeling.com.