When is it Worth it to Take Out a Wall in the Kitchen?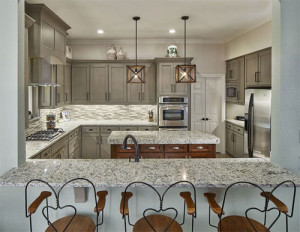 As a design and remodeling firm, one of the biggest complaints we hear from homeowners is that their kitchen is too small. Houses built thirty years ago or more tend to have small, closed-in kitchens. They are nothing like the open-space kitchens of today that allow two people to cook at the same time, while kids do homework at the breakfast nook.
The easiest and most effective way to add more space to a kitchen is to knock down a wall; however knocking down a wall also adds a lot of expense to a kitchen remodel. Expanding a kitchen may mean moving around appliances, adding more plumbing, re-routing electrical, and adding more flooring and cabinets.
Before you start envisioning your huge, expansive kitchen, determine your remodel budget and then call USI Design & Remolding. We can help you determine whether knocking down a wall to expand your kitchen is a smart choice for your goals and budget.