Too Many Empty Chairs at Your Dining Room Table?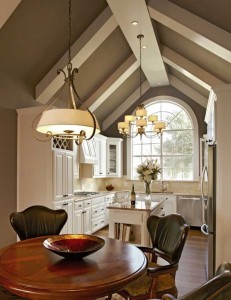 So your children are all grown and on their own and now it seems a bit strange for just the two of you to have meals at your big dining room table.  If so, perhaps a cozy breakfast knook would be ideal for your new living situation.
Not only will your meals together be a more intimate experience, breakfast knooks are also great when you're entertaining as people seem to always gravitate to the kitchen.  Breakfast knooks are also a great place to just sit and have intimate face-to-face conversations any time of the day while you enjoy a cup of coffee or a glass of wine.
Even if you have a kitchen that's "not-so-big", you'll be surprised at what we can do for you.   So if you'd like to start enjoying the convenience, functionality, and intimacy of a breakfast knook, call USI Design & Remodeling for a free consultation.