Time To Start Planning Your 2015 Outdoor Space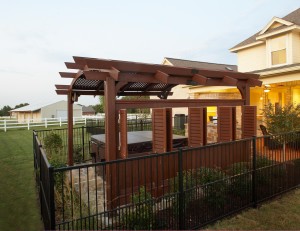 It's still winter, but warm spring weather comes early in Dallas and Fort Worth (which is one of the reasons we love being here!) Before you know it, it'll be time to start planting your spring garden and firing up the barbeque. Now is the perfect time to start thinking about remodeling the exterior of your house.
Remodeling takes time to plan, implement, and design, so if you are hankering for a beautiful outdoor living room by spring, you need to start calling design and remodel agencies right about now to start getting quotes.
There are so many things you can do with your outdoor space. Is this the year to finally create a beautiful patio with built-in fire pit, outdoor kitchen, and a bar for high class entertaining? Think about how nice it would be to sit outside with a group of your closest friends sipping wine or beer as the fire roars and steaks sizzle on the grill.
Start thinking and dreaming. If you envision a grand outdoor space for entertaining, we can help! Give us a call today, and – depending on the scope of your project – you could have a whole new patio space by spring.