Small Kitchens and Tile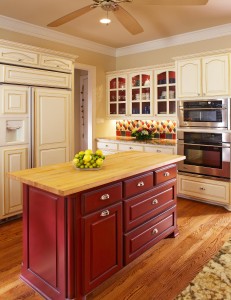 In many small kitchens extras are often eliminated, but tiling can add some decorative appeal and ease of cleaning.  Tile can help make your small, cramped kitchen feel like a larger room.  Tile can cover your countertops, backsplashes and even your floors.
Tile comes in an array of different materials, shapes and sizes, making it easy for everyone to find something the like.  Popular materials used to make tile include: ceramic, terra cotta and porcelain.  Tile is a great way to introduce texture, color and pattern into your kitchen.
Tiling countertops has become a budget-friendly alternative for many people.  If you decide to tile your countertops, be mindful in selecting a tile and tile size that balances the small space of your kitchen.  Large format tiles used horizontally can make countertops appear longer than they really are.
Tile backsplashes are not only a necessity in most kitchens, but a focal point.  A backsplash is like a petite canvas in your kitchen, go ahead and make it as bold and beautiful as you'd like.  Backsplashes can be made into any design or color you'd like.
Tile can also be used on the floor of your kitchen.  Floor tiling can be made from stone, ceramic or glazed porcelain.  Floor tiling is extremely durable and easy to clean.