What to Do With Pets During a Home Remodel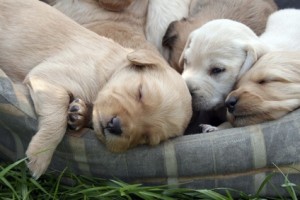 Remodeling any part of your home, including the kitchen or master bath, will be noisy, messy, and will require a work crew to be in your home for a few days or a few weeks depending on the scope of the project. When you set the date for your remodel to begin, it's important that you take your pet into consideration.
Many dogs and cats will feel stressed with the hammering and drilling that are natural parts of the remodeling process. Certain dogs that feel very protective of their home won't like strangers invading their space.
If you believe that being in the home while the remodel is occurring will stress your pets, then it is best to plan on keeping them out of the house during the length of the remodel. This may mean bringing them over to a friend's house for a short vacation or bringing them to a pet daycare facility. If you plan on keeping pets in the house during the remodel, make sure they are secured in a closed room or crate while the work is ongoing.
If you are planning a remodel in the Dallas/Ft. Worth, Texas area, USI Design & Remodel would like to compete for your business.