Kitchen Improvement with Under-Cabinet Lighting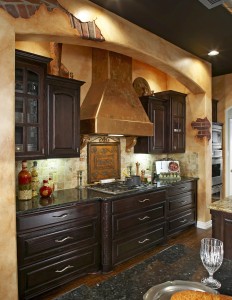 Growing up, most people had a single fluorescent ring bulb in the middle of the ceiling to illuminate all corners of the kitchen. The light appeared too dim when trying to read the fine print on ingredients, and too bright when looking for a midnight snack. Back then, it was ok, but today it won't cut it.
In the course of remodeling your kitchen, you might be able to enjoy the benefits of working with a designer to get your wiring and lighting done right. One of the easiest lighting improvements to your kitchen is the addition of under-cabinet lighting. Your body and upper cabinets often block light that is centrally located on ceiling fixtures, so you end up working in dim shadows, unless you have a kitchen island.
Installing lights beneath your kitchen upper cabinets can help to illuminate working surfaces and cookbooks. Three types of lighting that you may consider include:
Fluorescent lights: Come in a variety of lengths to accommodate different cabinet widths, and cast an even, 'cool' light.
Halogen lights: Come in the form of small discs, and cast a white, highly focused light that makes it easy to work by.
Incandescent lights: Come in multiple configurations and wattage, and tend to work best for ambient light than true 'working' light.