Can a Home Remodel Save a Relationship?
Even the greatest home remodel in the world won't save a relationship on the rocks, but home remodel projects can increase a couple's quality of life and prevent many of the little annoyances that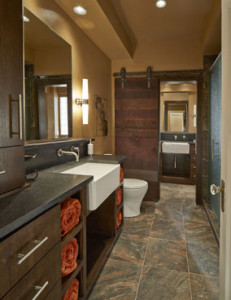 add up.
Expanded Walk-In Closet
No matter how much a couple loves each other, they still need their own space, especially for their clothes. If a guy feels like he has to shove all of his clothes into a single drawer while his wife takes up the entire small closet just with her tops, arguments might follow. Give each other plenty of space with a gloriously roomy walk-in closet or even two separate closets. One for him, one for her.
Master Bath Remodel
Sharing a sink with someone else can be difficult, especially if one partner is a neat freak while the other leaves hair products, used Q-tips, and whatnot strewn over the sink. A bathroom remodel can include a large, double sink vanity that provides each person with their own "get ready" station. An extra large shower and tub can also give couples plenty of opportunities to amp up the romance!
Office Room Addition
If one partner works from home or is working on a side business or personal project, it can be difficult to carve a niche in a loud and crowded household, especially if you have kiddos. Don't try to write the next great novel or put together your killer pitch at the kitchen table. Invest in an office room addition so you can have your own, quiet space.
Kitchen Remodel
A small, old kitchen that doesn't allow for entertaining can put a strain on a partner who loves to cook and have company over. Let your extroverted half shine with an expansive kitchen remodel that will turn your home into a warm, happy place full of laughter.
If you want to increase the quality of your home life, contact USI Design & Remodel and let us know how we can help remake your Dallas or Ft. Worth home.