What Zones Do You Want For Your Remodeled Kitchen?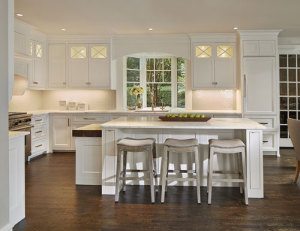 One of the best things about remodeling your kitchen (besides the chance to finally throw out your testy dishwasher for good), is your ability to create a room that meets the needs of you and your family. This is a level of personalization that only a remodel can achieve.
As you begin to plan out your remodel, think about the ways that you and your family use the kitchen. You will definitely need cooking, prepping, and washing zones, but is that all? If you and your spouse love to cook, maybe you need two prep zones or a double oven for huge meals if you like to invite the extended family over. Do you want a study/homework zone for the kids when they come home after school or a breakfast counter for more efficient mornings?
Deciding on the different zones you want in your kitchen will help your remodel contractor better understand the scope of your project as you begin to design the new layout. If you live in the Dallas/Ft. Worth area, USI Design & Remodel can help you decide on the perfect kitchen remodel layout.