Customer Review from Houzz: USI just Completed a Full Interior Renovation
Want to hear the real experience of one of our clients? Check out this Houzz review from an Arlington, Texas homeowner: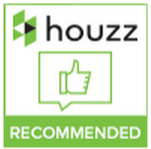 "USI just completed a full interior renovation for us, and we couldn't be happier. From our first meeting with Chris to the last details, everything was done in a very professional manner and on schedule. One of the most important aspects of the entire project was the design, as we weren't sure exactly what we wanted. Chris took a look around our house and asked enough pertinent questions that he was able to lead us to pick out all the materials, hardware, cabinets, etc. that suited our tastes with minimal hassle.
One thing that stood out was the high quality of work and the excellent crews USI had working on our job. Everything was done professionally and on time. We now have a new home in the old shell that is much nicer than we ever imagined. We would definitely recommend USI to anyone looking to do a major remodel of kitchen, baths, or entire home."
-David Luttner, Houzz Customer Review