Add Heated Floors for Luxury Bathrooms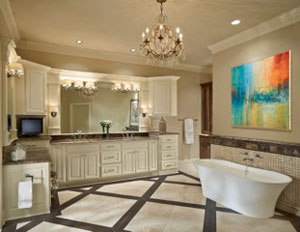 Getting out of a soft warm bed is hard enough every morning, let alone being greeted by cold bathroom floors while waiting for the shower to heat up. Just because we're lucky to be be blessed with warm weather most of the time doesn't mean heated bathroom floors wouldn't be a huge treat every morning.
They are the ultimate in bathroom luxury and a good investment as well. If you are creating and remodeling a luxury bathroom heated floors are the splurge you will soon wonder how you lived without. Heated floor materials work best in stone tiles, ceramic and porcelain, all materials that respond well to temperature change.
The heat is controlled by a thermostat and can be set by a timer, perfect for those mornings getting out of bed seems impossible. Heated floors are also extremely safe with features that prevent the floor from overheating.