A New Floor for Thanksgiving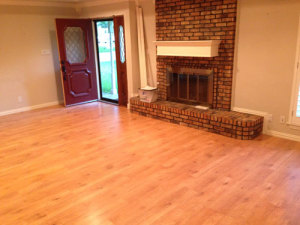 The very family-oriented holiday is almost upon us. Relatives from near and far are coming over. While we focus on cooking up a wonderful meal and setting a festive table, spiffing up the floors can make a dramatic statement. It might be time to repair, recoat or refinish your existing hardwoods. Or change your look altogether.
Wood floors in any color have become very popular, even in high traffic areas like the kitchen.  As flooring styles change the latest in demand styles include wide-plank, vintage or distressed and matte finishes or satin-finish. Bamboo floors, which are renewable and durable, remain one of the most popular choices today. No longer relegated to the floor, wood accent ceilings and walls are being spotted in homes across the country.
Also three hot color trends in flooring now:
Dark—Rich looking, dark floors are still popular in high end homes.
Gray—Stylish and neutral, gray won't overpower your furniture or accent pieces.
Whitewash—That Hamptons beach look is back.  This choice adds lightness and style.
Maybe refinish and sand your existing hardwoods. Or replace them completely. Aunt Elizabeth won't know what you did to update the place.