3 Easy Ways to Remake Your Bedroom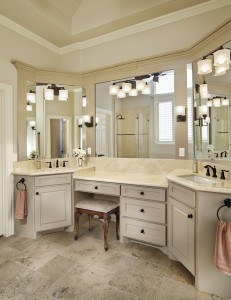 You want your bedroom to look like the ones depicted in magazines, well-designed but easy-to-live-in. Like many of us, have you have kept your bedroom the same way for years and want to change it up? Here are three changes you can make that will freshen up even the most humdrum of bedrooms.
Pick Pendant Lamps
Replace the discount store lamps that sit atop your night-tables…and add more room for books. Use hanging drum shades for a luxurious, classic look.  Or opt for lantern lights for rustic appeal. Use 60 watt bulbs which provide enough light to read by, but also enough subtlety to set a mood.
Repaint
The secret colors for more sex and sleep? A recent British survey found that respondents sleeping in blue rooms benefited from the most sleep. Purple was the worst wall color for snoozing—perhaps being too enervating. And the best color to inspire intimacy? That would be creamy caramel. Those coupling most often opted for the latter shade.
Set up Seating
For small spaces, add a chest or bench at the foot of your bed. Or you could be creative and set up side-by-side ottomans there. For larger spaces, add comfy chairs or even a reading nook.
If you're not yet ready for a full-on redesign, adding these few new elements could modernize and add panache to a tired old bedroom.