Creating A Mediterranean Bathroom
For those of us looking for unique bathroom ideas, an exotic mediterranean bathroom could fit the bill perfectly.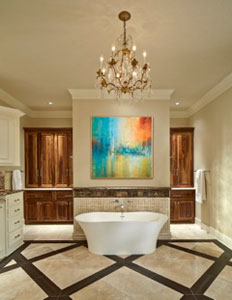 Redesigning your bathroom can be a great way to bring some of your favorite travel destinations back into your home. The greatest part of capturing the Mediterranean style is that it encompasses a broad range of countries, time periods, and cultures. You can attain the sun-drenched beauty of a simple natural wood and stucco theme, or bring together intricate tiling and ornamental fixtures to model many of the greater pieces in Mediterranean architecture.
The sunny regions of the Mediterranean often incorporate both natural and lively colors. From bright yellows and earthy reds, to vibrant blues, greens, and white accents. These color palettes can be incorporated in various ways throughout the bathroom. Their special look gives a cohesive and authentic appearance to any remodel.
Modeling a Tuscan or Spanish style Mediterranean bathroom calls for choosing the perfect tile. Rustic floor tiles, patterned backsplashes, or mosaic details are great ways to include this style in your design. Archways and curved elements which are classic to the look can easily be translated to shower doors, windows, and mirrors. The French, Greek, and Moroccan regions each offer a different take on Mediterranean style and colors as well.
The design selections are endless, and the wide variety of custom materials available to designers today make it possible to create the destination bathroom you've been dreaming of. USI Remodeling and Design can take your existing bathroom and transport it anywhere in the world. Call up our designers today to discuss the possibilities.