Do you Need a Larger Kitchen for Entertaining?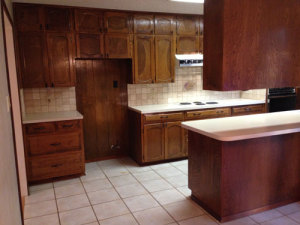 You tend to spend a good chunk of time over the holidays in your kitchen, especially if you enjoy entertaining. All of these occasions will call for food, and you'll likely have several volunteers helping you whip up your favorite recipes or at least keeping you company in the kitchen while you put the finishing touches on your dishes.
This is the time of the year that your kitchen needs to perform. How is it holding up? Are you bumping into people? Is your ancient oven drying out the ham or turkey again? Do dishes quickly over pile in your single sink? Are you thinking of adding "center island" to your wish list for Santa?
You may have been thinking about a new kitchen remodel in the back of your head for some time, but the holidays can really hit home that need. Think about how much more pleasant it would be to host a party if you had a large, spacious kitchen with a brand new oven, double sinks, beautiful cabinets, an inland offering even more cooking space, and a long bar where your friends could lounge.
Santa can do a lot of things, but he can't make a kitchen remodel happen overnight. Instead, give us a call at USI Design & Remodeling and tell us your vision for your new kitchen. We can help you refine your project and give you an honest and accurate quote. The next time the holidays roll around, you'll be eager to host and show off your spectacular new kitchen.