Choosing Bathroom Wall Surfaces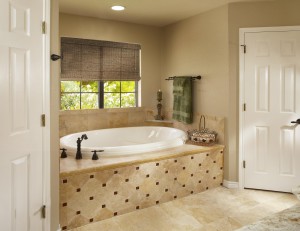 Choosing bathroom wall surfaces can be a challenge.  You have to think about the bath tub, cabinetry, and floors and what works best with what.  Bathroom wall surfaces can be picked by thinking about two factors: size and moisture.
The baseboard on the wall will protect the lower four inches of the wall, but you still want to use a paint that resists moisture. Flat and matte surface paints should be avoided because they do not resist moisture.  The best paint to resist minor quantities of moisture are an eggshell or satin paint.
With ceramic tile, you won't have to worry about any problems with moisture.  The biggest issue to consider with ceramic tile is design.  Choosing a pattern can either enhance your bathroom's appearance or distract from it.
Bead board only provides partial covering for the wall.  It can be painted with a semi-gloss or glossy paint which will protect the lower parts of the wall from moisture.  Bead board gives bathrooms a more traditional look.
Tile board looks similar to ceramic tile and comes in panels, so it is easy to install.  It repels moisture and looks real.  The downside to tile board is that when used heavily, it becomes evident that it is not real.