Essential Questions to Ask Your Contractor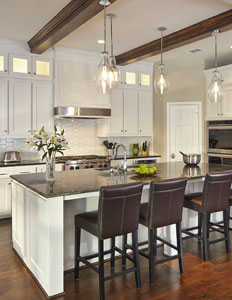 Choosing a contractor for a project, especially your first one, can seem scary and confusing. Asking the right questions can help set your mind at ease and get you on the right track to choosing a great contractor.  Treat the conversation like any job interview and ensure both parties have a clear understanding of the requests and the requirements on each end. You can base your questions on these three key areas.
The Project
Timeline – It's a good idea to discuss timeline and if there are any areas where things are more likely to be delayed.  You'll also need to know if there is any lead time before they can start the project.  If you need to rearrange your daily activities around the construction, this will be important.  Also find out if there will be any penalties for missed deadlines or incentives for completing it early.
Budget – Talking numbers is not everyone's favorite thing, but it's very important before starting a remodeling project. When you discuss the potential budget, and any wiggle room left for unexpected costs, be sure that you know everything the estimate includes. You'll also need to know at what point payment is required for the project.
Custom Requests – While remodeling is usually a custom job, sometimes requests are very specific or out of the ordinary. Those need to be discussed ahead of time to ensure they can be included in the current plans. Things like using your own materials, or a specialty piece will affect the project and should be agreed on ahead of time.
Who Will be the Project Lead On-Site – You should know before the project begins who will be working in your house. You should also take note of who will be providing updates and communicating with you should there be any issues.
The Contract
Bid Process – You may speak to a few contractors before making a decision and it's best to be able to compare apples to apples. Discuss the entire bid process and what is included, and not included in each bid.  Remember too, it's not always the price that determines the best fit.
What if's? – You should have in writing the process of how any issues will be dealt with should the need arise. Ensure that your expectations align with the service guaranteed by the contract.
The Red Tape – Home remodels require a certain amount of documentation depending on the scope of the project. Other than the contract itself there will be permits, warranties, lien release upon completion, and possibly other important paperwork that you will want to keep track of.
Their Experience
Past Projects – Find out of the type of project and design style is something that the contractor has experience with. You will want to see examples of their past work and then can compare the style and quality to your request.
References – The best way to find any good business or service is through recommendations and referrals. Ask the contractor to provide several references that you can speak with. Their previous clients may also provide a different perspective or helpful information about the remodeling process.
BBB Ratings – Thanks to the internet it's possible to get real reviews and ratings on any business. Check several sources and look for any patterns both good and bad in the comments. One of the best sources is the Better Business Bureau which is a more formal version and long-standing provider of reviews and ratings.
Qualifications and Certifications – A quality contractor should have several professional affiliations with remodeling associations. This shows they are an active participant in the greater home design industry, and lends credibility to their experience and business as a whole. Certifications should also be a part of their resumé if a project requires particular knowledge or training.
Awards – Looking for award winning quality and design in your remodel? Awards are a great place to start your search. If you'd like to see USI's design awards, our current list is here and growing!
Whether you're just starting out or a renovation pro, give us a call now to discuss your next project.