Bathroom Remodel Tip: Splurge On A Walk-In Shower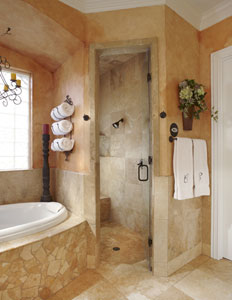 The walk in shower is a classic element and is making a comeback in new home designs. From ultra-modern to nature inspired, a walk in shower is a convenient and versatile way to update the look and functionality of your bathroom.
Current remodeling trends are taking the concept and really stepping outside the box with new shapes, custom styling, and plenty of bonus features.  Depending on your bathroom space and resources, a walk in shower update could be the perfect minimalist design that you're looking for, and will seamlessly blend in with your existing bathroom. Or it can become your design focal point and a chance to create a true masterpiece.
As beautiful as any bathroom remodel can be, it will also add immense value to your home. Safety and accessibility concerns can easily and stylishly be addressed in your custom design, which is a major benefit for homes with kids or older family members. A walk in shower is also a simple way to create your own in-home spa just by adding a steam room feature.
From space-saving to big and bold, a walk in shower is one of the most customizable areas in your home. Combining the right materials and design will create an amazing ambiance in your home that you can step into anytime. Find your own design inspiration here, or in our photo gallery and give USI Remodeling a call today.