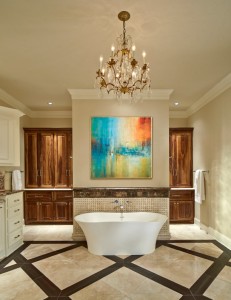 We have developed an unmatched reputation for quality, integrity and professionalism.  A smart bathroom remodeling strategy is having a roadmap that will guide decisions. As expert bathroom contractors and bathroom designers we help to get the most out of your budget while bringing plans to life by creating unique details and qualities in your bathroom remodel.
Our tenured and diverse team will provide inspirational design ideas that integrate correctly and cleanly into the installation.
Typical changes or components available for your bathroom renovations but not limited to are:
Floorplan changes.
Structural changes.
Shower enlargements.
Complete closet overhauls.
Custom cabinetry, appropriate to design theme that address storage and lifestyle.
Steam showers, Dry saunas, Heated floors.
Added natural light via new skylights or windows.
Master bedroom suite renovation.
Freestanding or decked tub,(Soaking or Jetted).
Architectural details. Ex: Sliding barn doors, fireplaces, ceiling treatments such as Vaults, barrel ceilings or specialty moulding.
The perfect compliment to any new bathroom is getting all the details you may want now.