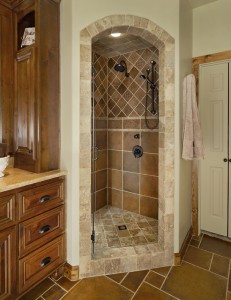 Remodeling Ideas for a luxury Bathroom.
Today's luxury bathroom pushes the envelope, exceeds the imagination, and dares to go where no man has gone before. Some items you can expect to find in a luxury bathroom these days are multi-port showering set-ups, smart toilets, steam showers, towel warmers and heated floors, shower rain heads and body sprays, bathroom refrigeration coolers, bubbler tubs with fountain fills, even a waterproof TV for your shower. If you're looking for the hottest trends, total spa experience, or functionality with a flare you've come to the right place.
While you're doing your homework and seeking ideas for your new bathroom retreat make sure to browse our luxury bathroom image gallery. Not only will you be inspired by the pictures, you'll also get to see the incredible bathroom designs and quality construction that our team bring to the table.